Exhibitions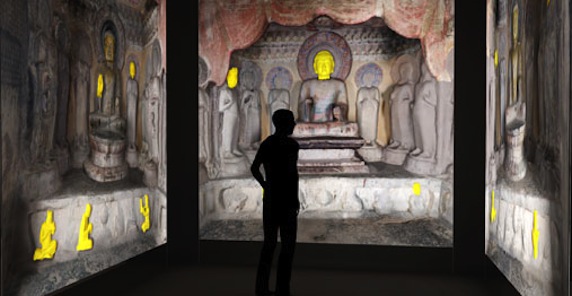 Image by Jason Salavon and Travis Saul
Exhibition Description
The Xiangtangshan Caves Project: Reconstruction and Recontextualization resulted in an exhibition that opened at the Smart Museum of Art, University of Chicago in September 2010 and traveled to four other museums before closing in January 2013. Entitled "Echoes of the Past: the Buddhist Cave Temples of Xiangtangshan," the exhibition included a selection of important sculptures from the caves shown together with digital installations. It brought together for the first time in many decades works of sculpture that have been carefully preserved and displayed for public viewing in many museums but have been isolated from one another and from their original contexts. The digital displays supplemented the sculptural material with information on the original locations of the sculptures and their religious meanings in their caves contexts. The exhibition highlighted the artistic quality and refinement of the sculptures, the historical political setting in which they were created, and also confronted the unfortunate circumstances causing the damage to the cave sites in the last century and the scattering of the cave contents to the far corners of the globe. The caves are now protected today, but in their damaged condition, it is impossible to imagine their former appearance. By bringing a selection of the sculptures together and showing them with the digital installations, the exhibition sought to place the caves in historical contexts and devise new methods to recreate them in digital form.
Interactive workstations encouraged visitors to explore the caves and the original locations of sculptures and enabled them to view digital 3D models. A video showing the approach to the caves in today's rural and mining environment gave visitors a sense of traveling to the cave sites. A few printed 3D models of sculptures made from the scanned digital information also accompanied the exhibition. Although the history of destructive activity at the caves is irreversible, the exhibition and project emphasized a future-oriented approach with new research methodologies and the many potential uses of digital technology for reconstruction and re-contextualizing.
Exhibition Credits
The exhibition was organized by the Smart Museum of Art, University of Chicago, and the Arthur M. Sackler Gallery, Smithsonian Institution.
Major funding was provided by the National Endowment for the Humanities, the Leon Levy Foundation, the Smart Family Foundation, and the E. Rhodes and Leona B. Carpenter Foundation. The catalogue was made possible by Fred Eychaner and Tommy Yang Guo, with additional support from Furthermore: a program of the J. M. Kaplan Fund.
Additional support for the Smart Museum of Art's presentation was generously provided by the National Endowment for the Arts, the University of Chicago Women's Board, and Helen Zell. Additional support for the Arthur M. Sackler Gallery presentation was provided by the Cotsen Foundation for Academic Research.
Exhibition Schedule
Smart Museum of Art, University of Chicago

September 30, 2010 to January 16, 2011
Arthur M. Sackler Gallery, Smithsonian Institution, Washington, D.C.

February 26, 2011 to July 31, 2011
Meadows Museum, Southern Methodist University, Dallas

September 11, 2011 to January 8, 2012
San Diego Museum of Art

February 18, 2012 to May 27, 2012
Institute for the Study of the Ancient World, New York University

September 11, 2012 to January 6, 2013